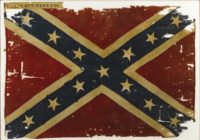 I was born in Elkhorn, Wisconsin on February 26, 1948 at Walworth Memorial Hospital. So, what does this have to do with Education? Nothing more than a Memorial.
I have a small history due to family interaction with Elgin, Illinois – the basis for our posting today – my great-uncle David Samuel Cole (a renowned educator from Elgin, Illinois) and his wife, Edith (who with her own twisted sense of humor, had a coal black Cocker Spaniel named, Tarbaby). I knew them well – but THIS is not our story today…
Forty-five days after my birth, a former slave and Confederate Veteran passed away quietly into the night at the age of 112 in Elgin – a place and community where I would spend much of my youth. I was closer to my education in the truth about Lincoln's horrific war than I would know until some 70 odd years later.
What else can we find regarding "Uncle Bob"? How did he wind up in Illinois all the way from Richmond, Virgina? Had he been captured and serve time at Camp Douglas in Chicago?
As you will note from the newspaper clipping, the Daughters of the Confederacy made arrangements for his funeral. May he be resting in Peace to this day.
Deo Vindice