For those Yankees who like to beat the dead horse of "slavery" and "denial" about Blacks in the Confederate Army. Not only did we have numerous colored Brother's, but imagine how minds would EXPLODE if they knew about our Black CONFEDERATE GENERAL?? ~ M.R.F.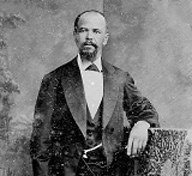 Alexander H. Darnes (c.1840 – February 11, 1894) was an African American who was born into slavery in St. Augustine, Florida and became the first black doctor in Jacksonville, Florida.
As a youth and young man, he served Edmund Kirby Smith, the son of his master, in Texas with the United States Army, and during the War Between the States when Kirby Smith served as a Confederate general.
Both Darnes and Smith lived on the same property in St. Augustine, the historic Segui-Kirby Smith House (also known as the Old Public Library) at 12 Aviles Street.
In 1855 at about the age of 15 Darnes left St. Augustine to serve as personal valet to Smith then a member of the United States Army serving in the Western territories. He continued to serve Kirby throughout the Civil War including at the First Battle of Bull Run in Virginia.
After the South's defeat, Darnes (with support from Gen. Kirby-Smith's sister, Mrs. Lucien Webster, the widow of an army officer) attended Lincoln University in Pennsylvania. He then attended Howard University, the historic black university in Washington, D.C., where he graduated with a medical degree in 1880.
Upon returning to Florida he set up a private medical practice in Jacksonville, Florida becoming the first black physician in the city and the second in the state of Florida. Darnes built a thriving practice operated out of his home on Ocean Street and became a pillar of the community.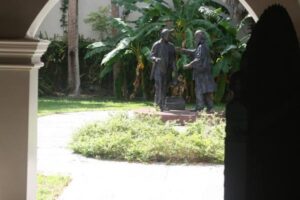 He won praise for his work during the smallpox and yellow fever epidemics that swept Jacksonville during his years there, including the devastating yellow fever epidemic of 1887-1888 that swept through Florida and reached Jacksonville in the summer of 1888.
Almost everyone who could afford to fled the city, roughly half the city's population of 25,000. Darnes stayed behind to help as best he could receiving help in his endeavors from his friend and fellow Howard Medical alumnus Dr. Lemuel W. Livingston.
Darnes died in February 1894, less than a year after Edmund Kirby Smith's death in March 1893. He received a large and extravagant funeral attended by both black and white citizens of Jacksonville.
A bronze sculpture of Smith and Darnes was created in 2004 by artist Maria Kirby-Smith a great granddaughter of the Confederate general. The life sized bronze sculpture is located in the courtyard garden of the Segui-Kirby Smith House.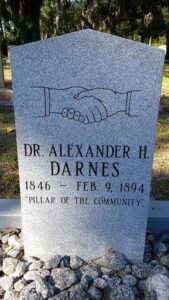 Darnes' large funeral was attended by more than 3,000 black and white citizens of Jacksonville. Obituaries of him were published by more than one local paper.
2004, Sons of the City, a life-size bronze sculpture of Smith and Darnes, was created by artist Maria Juliana Kirby-Smith, a great-granddaughter of General Edmund Kirby Smith.
The sculpture portrays the two men as adults; Darnes' medical bag is shown beside him. The work was installed in the courtyard garden of the Segui-Kirby Smith House in St. Augustine.
The house is now used by the St. Augustine Historical Society as its Research Library.
In 2013, the Kirby Smith chapter of the Sons of Confederate Veterans discovered that Darnes' tomb was in disrepair and erected a new marble gravestone.
Marci Rene' Fox
February 11, 2020