Nancy Green (November 17, 1834 – August 30, 1923 was a storyteller, cook, activist, and the first of several African-American models hired to promote a corporate trademark as "Aunt Jemima".
Green was born into slavery on November 17, 1834, near Mount Sterling in Montgomery County, Kentucky. She was hired in 1890 by the R.T. Davis Milling Company in St. Joseph, Missouri, to represent "Aunt Jemima", an advertising character named after a song from a minstrel show. Davis Milling had recently acquired the formula to a ready-mixed, self-rising pancake flour from St. Joseph Gazette editor Chris L. Rutt and Charles Underwood and were looking to employ an African-American woman as a Mammy archetype to promote their new product. In 1893, Green was introduced as Aunt Jemima at the World's Columbian Exposition held in Chicago, where it was her job to operate a pancake-cooking display. Her amicable personality and talent as a cook for the Walker family, whose children grew up to become Chicago Circuit Judge Charles M. Walker and Dr. Samuel Walker helped establish a successful showing of the product, for which she received a medal and certificate from the Expo officials.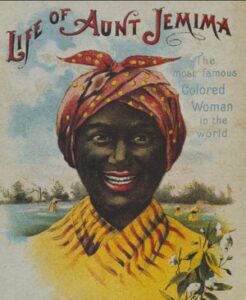 After the Expo, Green was offered a lifetime contract to adopt the Aunt Jemima moniker and promote the pancake mix. This marked the beginning of a major promotional push by the company that included thousands of personal appearances and Aunt Jemima merchandising. Nancy Green maintained her job with Davis Milling (which was renamed "Aunt Jemima Mills Company" in 1914) until her death in 1923; she was still working as Aunt Jemima at the time.
Green was one of the organizers of the Olivet Baptist Church. Her career allowed Green the financial freedom to become an activist and engage in antipoverty programs. She was one of the first American missionary workers. She used her stature as a spokesperson to become a leading advocate against poverty and in favor of equal rights for individuals in Chicago.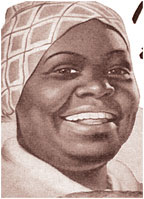 Green died on August 30, 1923, in Chicago when a car collided with a truck and flipped over onto the sidewalk where she was standing. She is buried in the northeast quadrant of Chicago's Oak Woods Cemetery. The famous image of Aunt Jemima was based on the real image of Nancy Green, who was known as a magnificent cook, an attractive woman of outgoing nature and friendly personality, an original painting of which sold for $9,030 at MastroNet. The painting was rendered by A. B. Frost, who is now well known as one of the great illustrators of the Golden Age of American Illustration.
In 2014, a lawsuit was filed against PepsiCo. The suit claimed that Green and Anna S. Harrington – the black woman who portrayed the character of Aunt Jemima starting in 1935 – were exploited by the company and cheated out of the monetary compensation they were promised. The plaintiffs were two of Harrington's great-grandsons, and they sought a 2 billion dollar settlement for descendants of Green and Harrington. The lawsuit was dismissed with prejudice and without leave to amend on February 18, 2015.
Published by Wikipedia
FAIR USE NOTICE: This site contains copyrighted material the use of which has not always been specifically authorized by the copyright owner. We are making such material available in our efforts to advance understanding of environmental, political, human rights, economic, democracy, scientific, and social justice issues, etc. We believe this constitutes a 'fair use' of any such copyrighted material as provided for in section 107 of the US Copyright Law. In accordance with Title 17 U. S. C. Section 107, the material on this site is distributed without profit to those who have expressed a prior interest in receiving the included information for research and educational purposes. For more information go to:

http://www.law.cornell.edu/uscode/17/107.shtml