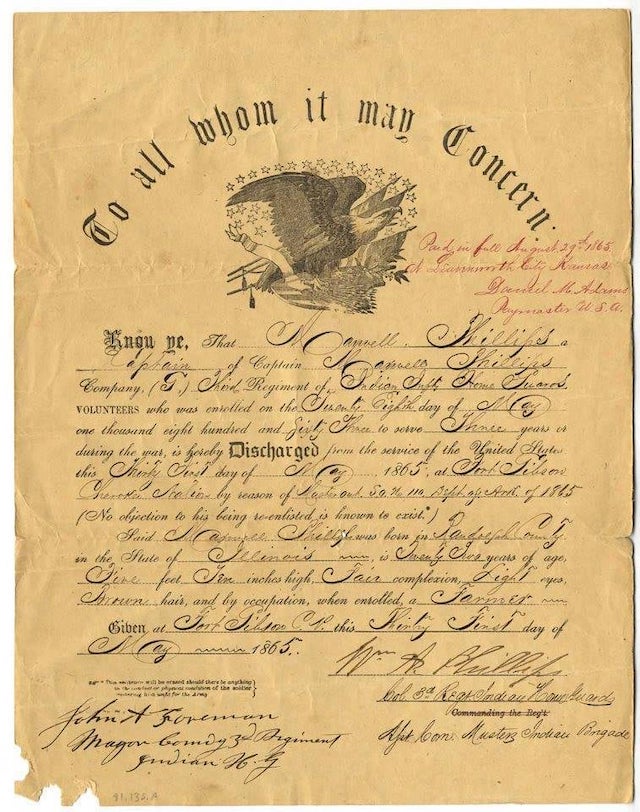 Discharge Given At Fort Gibson, Indian Territory — August 29, 1865
Paid in full August 29th, 1865
At Leavenworth City Kansas
Daniel M. Adams
Paymaster U. S. A.

Know ye, That Maxwell Phillips a Captain of Captain Maxwell Phillips Company, (G,) Third Regiment of Indian Infty Home Guards Volunteers who was enrolled on the Twenty-Eighth day of May one thousand eight hundred and Sixty Three to serve Three years or during the war, is hereby Discharged from the service of the United States this Thirty First day of May, 1865, at Fort Gibson Cherokee Nation by reason of Muster out. S.O. No. 110. Dept of Ark. Of 1865 (No objection to his being re-enlisted is known to exist.*)
Said Maxwell Phillips was born in Randolph County in the State of Illinois, is Twenty Two years of age, Five feet Ten inches high, Fair complexion, Light eyes, Brown hair, and by occupation, when enrolled, a Farmer.
Given at Fort Gibson C. N. this Thirty First day of May 1865.
William A. Phillips
Col. 3rd Regt. Indian Home Guards
Asst. Com. Musters Indian Brigade
*This sentence will be erased should there be anything in the conduct or physical condition of the soldier rendering him unfit for the Army
*John A Foreman
Major Comdg 3rd Regiment
Indian H. G.
NOTE: Major Foreman is the same Major Foreman who was wounded at the First Battle of Cabin Creek while leading a detachment of the 2nd Indian Home Guard across the creek under heavy fire. He was knocked from his horse but survived his wound. He carried a Minnie ball in the back of his head for the rest of his life.
Editor's NOTE: The attached image and text has been provided by The Second Battle of Cabin Creek
November 12, 2019