It appears that getting your children OUT of the Public Fool System would be advised!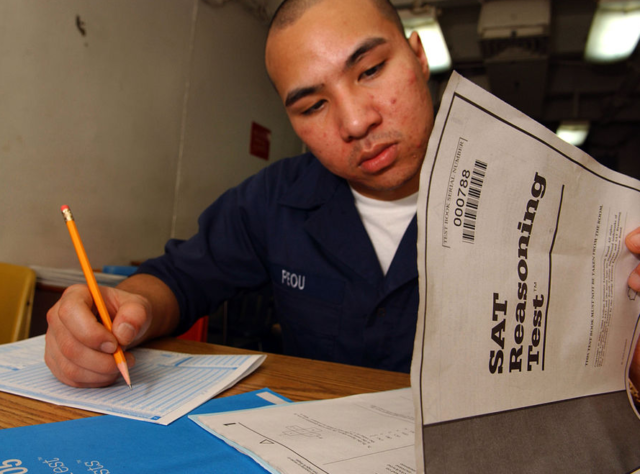 Last summer (2015), George Washington University announced that it would no longer require students to submit their SAT or ACT scores as incoming freshmen. This move was made because the university "had concerns that students who could be successful at GW felt discouraged from applying if their scores were not as strong as their high school performance."
Some students, however, did not get off so easy. Homeschoolers, the college noted, would still have to submit their SAT scores before they could be admitted.
While such a caveat seems rather unfair, a new survey of 2014 SAT scores shows that the requirement shouldn't be much of a hindrance to homeschool graduates.
In early June, Dr. Brian Ray of the National Home Education Research Institute released findings on how homeschool students match up against other students on the SAT exam. The results in the table below show that homeschool students are far outpacing their traditional school counterparts, particularly in the areas of reading and writing.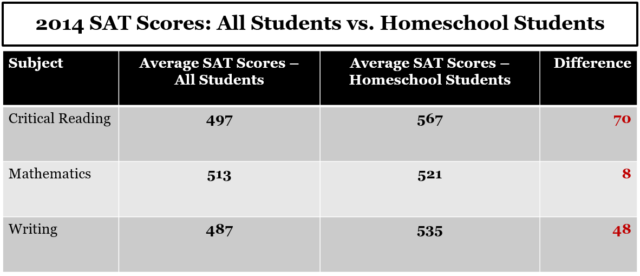 Last year, a number of news organizations reported that students in traditional schools were bombing the SAT left and right. Bloomberg created several historical charts showing SAT trends all the way back to 1972. As the reading graph below shows, the scores of today's homeschoolers far exceed those of students in traditional school even before these scores began to tank.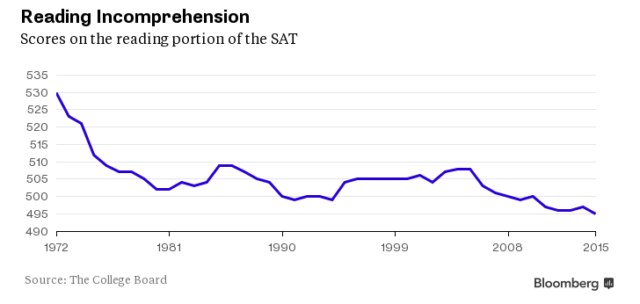 Because of plummeting trends like these, testing industries like the SAT have sought to make their exams easier because so many students are struggling to get decent scores.
But if young homeschool students don't seem to be having any trouble with the exams – and even seem to be achieving historically high scores – is it really a good idea lower the SAT bar?
Is it possible that traditional schools are failing to impart the well-rounded course of knowledge which their students need in order to keep up with the homeschooled ones?
Written by Annie Holmquist and published by Intellectual Takeout ~ June 29, 2016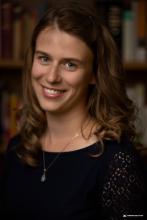 ~ The Author ~
Annie is Editor of Intellectual Takeout. In her role, she assists with website content production and social media messaging.
Annie received a B.A. in Biblical Studies from the University of Northwestern-St. Paul. She also brings 20+ years of experience as a music educator and a volunteer teacher – particularly with inner city children – to the table in her research and writing.
In her spare time Annie enjoys the outdoors, gardening, reading, and events with family and friends.
FAIR USE NOTICE: This site contains copyrighted material the use of which has not always been specifically authorized by the copyright owner. We are making such material available in our efforts to advance understanding of environmental, political, human rights, economic, democracy, scientific, and social justice issues, etc. We believe this constitutes a 'fair use' of any such copyrighted material as provided for in section 107 of the US Copyright Law. In accordance with Title 17 U. S. C. Section 107, the material on this site is distributed without profit to those who have expressed a prior interest in receiving the included information for research and educational purposes. For more information go to:

http://www.law.cornell.edu/uscode/17/107.shtml