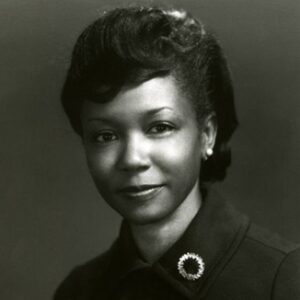 March is recognized by the U.S. Government as "Women's History Month." According to womenshistorymonth.gov, we "join in paying tribute to the generations of women whose commitment to nature and the planet have proved invaluable to society". There are countless women who have dedicated themselves to making the world a better place and to ushering in a turning point in history, so it's fitting that we should honor and celebrate them this month.
Surgeon, right-to-life activist, and noted speaker, Mildred Fay Jefferson was the first African American woman to graduate from Harvard Medical School in 1951. She was also the first woman employed as a general surgeon at Boston University Medical Center. Jefferson became active in the right-to-life movement in 1970 and held various offices beginning with the Value of Life Committee (VOLCOM), where she served on its board of governors.
She left VOLCOM in 1972 to form the Massachusetts Citizens for Life (MCFL), which was eventually incorporated as a state affiliate of the National Right to Life Committee (NRTLC). In 1978, she became the founding president of the Right to Life Crusade, Inc., while continuing to serve as a delegate to the NRTLC and board member of MCFL and several allied organizations. A self-described "Lincoln Republican," Jefferson's commitment to the right-to-life movement influenced her decision to campaign for the US Senate. Although her name was placed in nomination at Republican conventions in 1982, 1990, and 1994, she was largely unsuccessful. Despite these losses, Jefferson's efforts continued to generate national and international acclaim.
Dr. Mildred Jefferson, was the first African American woman to be accepted to Harvard Medical School. According to the Boston Globe she "broke many race and gender barriers in her long career as a doctor", but most notable is her work and dedication to the pro-life movement. As a young doctor she became concerned with efforts within Massachusetts to change abortion laws. This led her to become a co-founder of Massachusetts Citizens Concerned for Life. She was a founding member of the National Right to Life Committee, and served as the president of the organization three times. Dr. Jefferson was known for her eloquence at expressing, and defending the right to life, and traveled around the country using this gift to change hearts and minds. She is even credited with influencing Ronald Reagan's conversion from pro-abortion to pro-life.
Dr. Jefferson eloquently explained her pro-life convictions and how they worked hand in hand with her medical expertise:
"I became a physician in order to help save lives. I am at once a physician, a citizen, and a woman, and I am not willing to stand aside and allow the concept of expendable human lives to turn this great land of ours into just another exclusive reservation where only the perfect, the privileged, and the planned have the right to live." ~ Mildred Jefferson, M.D. (2003, American Feminist magazine)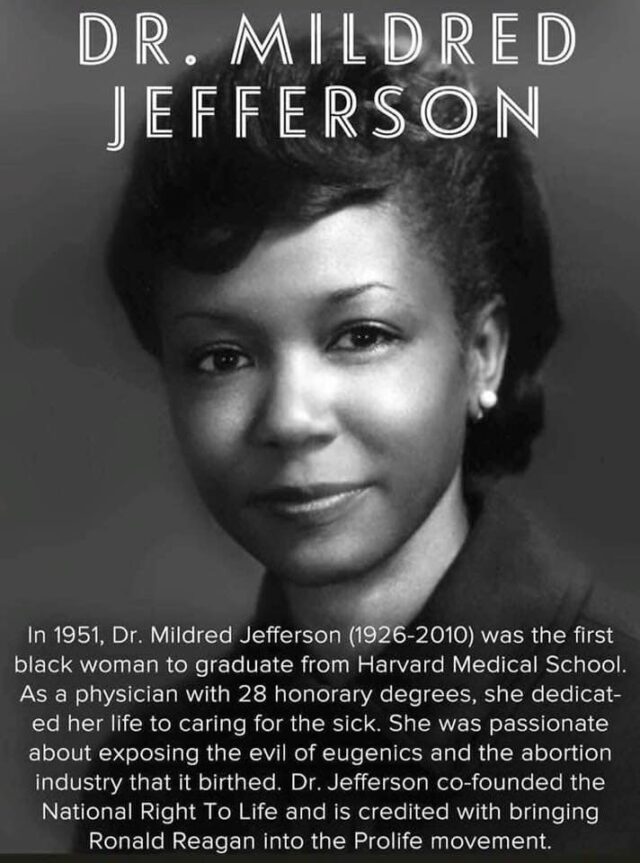 Her beliefs and actions were most certainly a turning point in the pro-life movement. She is an inspiration to young women today who continue her fight for a society where every human has the right to life and is valued by society.
Watch this video from The National Right to Life Committee on Dr. Jefferson's life and contributions to the pro-life movement: