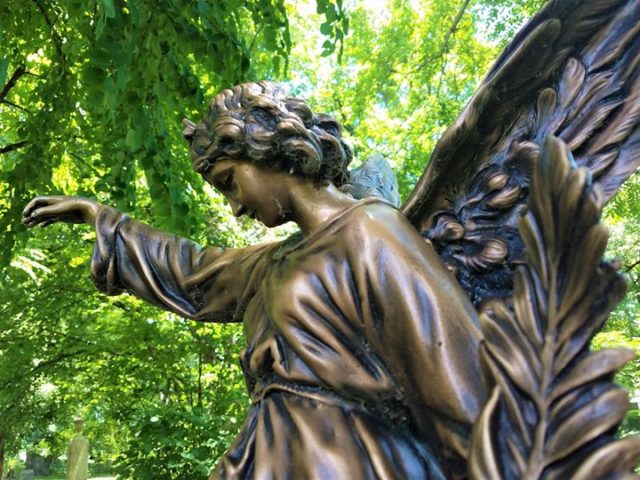 We saw a grave today at Cave Hill Cemetery that intrigued us….it is the grave of a woman buried with the Confederate Soldiers. The Epitaph simply reads…. "Bury me with my people." ~ David Huff and Jenny Lee Huff, November 9, 2018
The story of Elizabeth Temms
The former Confederate soldier asked only one thing as death grew closer in a Federal prison in Louisville, Kentucky two years after the War had ended. The simple request, "bury me with my people" was apparently ignored by those in charge of the remains, who surely knew where "home" was.
No common soldier, the requester was ultimately determined to be one Elizabeth Temms, the wife of George W. Temms, a soldier from Gordon County, Georgia. She had dressed herself in a soldier's uniform and left Calhoun in a volunteer company of a Capt. Kinman, which had been raised in that county at the outbreak of the War.
Apparently she was arrested by the Federal authorities on her own farm, and taken to the prison at 12th and Broadway in Louisville, Kentucky, where she would ultimately die.
Sherman's march across the South was in full swing, and she learned that the enemy was approaching and was able to alert the Southern troops and attempt to thwart the advance. For this she was summarily seized along with others deemed spies, and thrown in prison.
Ice House Cell
Sherman disliked anyone who was a Southern sympathizer, and for Elizabeth Temms, he agreed she would be put in the old ice house of the prison. The well-known Dr. Mary Walker was in the area, and the idea of segregating Mrs. Temms to the frigid ice house was said to have been Walker's idea. Her death was attributed to pneumonia, doubtless from her cold surroundings, on October 1 or 2, 1867.
Since the War ended in 1865, there was no explanation of why she was still imprisoned two years later.
Elizabeth Temms was bitter in her total hatred of the Northerners; she had left at home several small children who she would never see again. She was with the troops for some time before her gender was discovered and after her death, she was simply buried in the large Confederate section in the beautifully maintained Cave Hill Cemetery in Louisville, Kentucky, where she rests to this day.
It was said that her grave was always nicely kept and that a number of unknown individuals saw to it that fresh flowers always decorated the grave.
Husband did survive
Did she wish to be returned to the red clay soil of her native Georgia? Or was she intending to be buried among the soldiers with whom she had served? Apparently it was more expedient to use the Louisville facility, and there she lies. The assumption at the time a newspaper article came out on February 8, 1894, was that her husband had likely not survived the war, but in fact he had.
Later on May 26, 1889, a Dr. H.L. Flake wrote the paper with this information:
"While attending the decoration to-day of the Confederate graves in Cave Hill Cemetery, I found among the number of Confederate soldiers buried there one Elizabeth Temms, who masked herself, and fought under the Confederate flag, and died here Oct. 2st 1867, and the inscription on the stone was that she was born in Calhoun, Ga., died at the age of 28 years, and her last words were, "Bury me with my people."
"These few lines may be a relief to some of her dear relatives, if you will be so kind as to make inquiry, or have same published in some of your Georgia papers.
And if any further particulars are required, write me, and I will give them with pleasure."
The letter had its desired effect and several weeks later, her husband, then living in North Carolina, saw a copy of it and wrote to thank the editor for the first information he had had of his wife since the war. "Her children," he wrote, "who were left behind when she was carried away by the troops, have since grown to manhood and womanhood, and learned for the first time the pathetic story of their mother's death."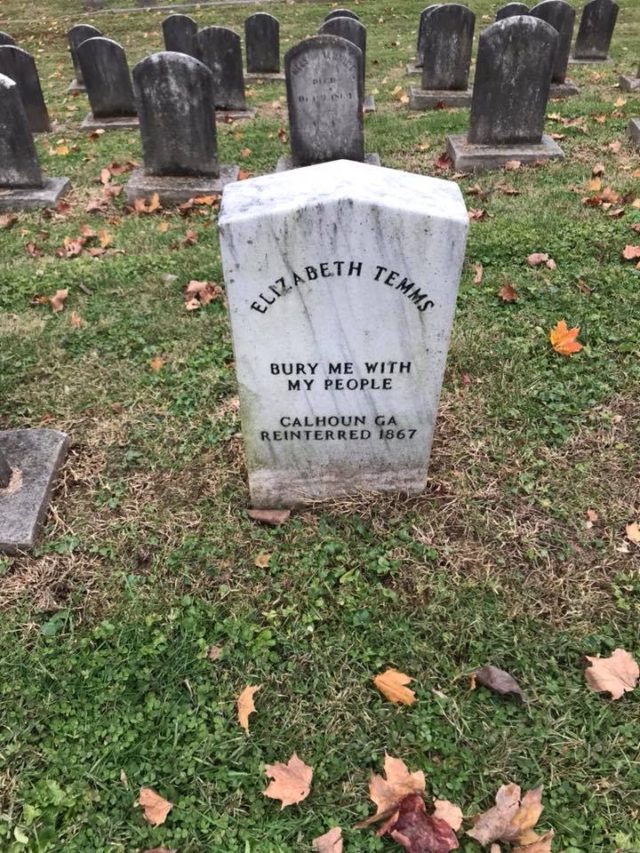 Photo by David and Jenny Lee Huff at Cave Hill Cemetery & Arboretum, Louisville, KY.